I've had a lot of people (okay… 2) ask me lately what they should give me for my upcoming birthday (Nov 11… in case the rest of you were wondering). Apparently I'm a difficult bastard to buy gifts for. Well panic no longer! I've compiled a list of stuff you can safely shop without worrying about offending me in anyway (like those people who have give me Parker Beta Ball pen in the past… please. Do I look like the kind of guy who use trashy Ball pen… you might as well send me a fruit basket)
please send me gifts be for 4 i don't like to wait much.
1.


Armani – AR5826
2.


Armani Three Button Suit
3.


Sony DSC-F828
4.


Acer's Ferrari laptop
5.


elephant
6.


BlackBerry 7100g
7.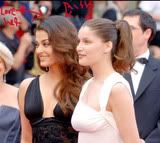 Aishwarya Rai
8.


Trip to paris
Its soo easy u won't get confused about what to gift, only 8 items. Now move ur ass fast u don't have much time left.